Legacy & History
FRIENDS of the Blue Ridge is a non-profit, volunteer and membership organization dedicated to protecting and preserving the Blue Ridge region.
Members financially support FRIENDS programs. FRIENDS chapters are community-based organizations that empower and coordinate volunteers, projects, and events in their local areas.
We extend our reach by working with local and regional government, common-minded nonprofits, clubs and other organizations.
To preserve, promote and enhance the outstanding natural beauty, ecological vitality, and cultural distinctiveness of the Blue Ridge region including surrounding scenic landscape, thereby preserving it for future generations.
Many People Share our Passion
We have over 1,500 members and nearly 750 volunteers supporting the work of FRIENDS.
A Short FRIENDS History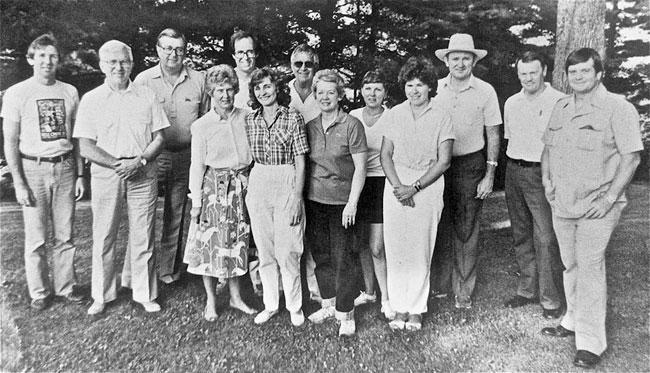 What happens to a national park when visitors love it too much? That was the question on the minds of Blue Ridge Parkway officials and civic leaders following the 50th-anniversary celebration of the Parkway in 1987 when more than 23 million travelers showed up to enjoy the world's longest parkway.
"America's Favorite Scenic Drive" experienced the impact of its own popularity with visitors coming every year to see its beauty. The location of the Blue Ridge Parkway–469 miles stretching from the Shenandoah Valley of Virginia to the iconic Great Smoky Mountain town of Cherokee in western North Carolina–placed it within a day's drive of half the population of the United States. The National Park Service (NPS) needed a partner to help maintain the park.
FRIENDS of the Blue Ridge Parkway was organized in 1988 as a membership-based organization to provide the funds for special NPS Parkway projects and volunteers to assist with many of the tasks that the NPS needed help to complete. They felt the organization and its members could help ensure the preservation, conservation, and enhancement of the Parkway that brings so many visitors to its bordering communities. FRIENDS focused on being the link between Parkway visitors and those communities by providing communities a way to become involved in projects. Today, FRIENDS has ten community-based chapters.
Every member and volunteer plays an active role. Please consider becoming part of FRIENDS. FRIENDS of the Blue Ridge Parkway is a registered 501(c)(3) non-profit corporation.