We're thrilled to present the "Blue Ridge Jamboree: ON THE RISE" showcase of our region's top artists ages 25 and younger on Thursday, Nov. 2, 7:00 pm at the Jefferson Center in Roanoke.
From bluegrass bands and gospel singers to Southwest Virginia's preeminent children's choir, the Blue Ridge Jamboree is an inspiring event you will not want to miss.
TICKETS: $15 Adult, $6 Child (age 2-12), Under 2 free.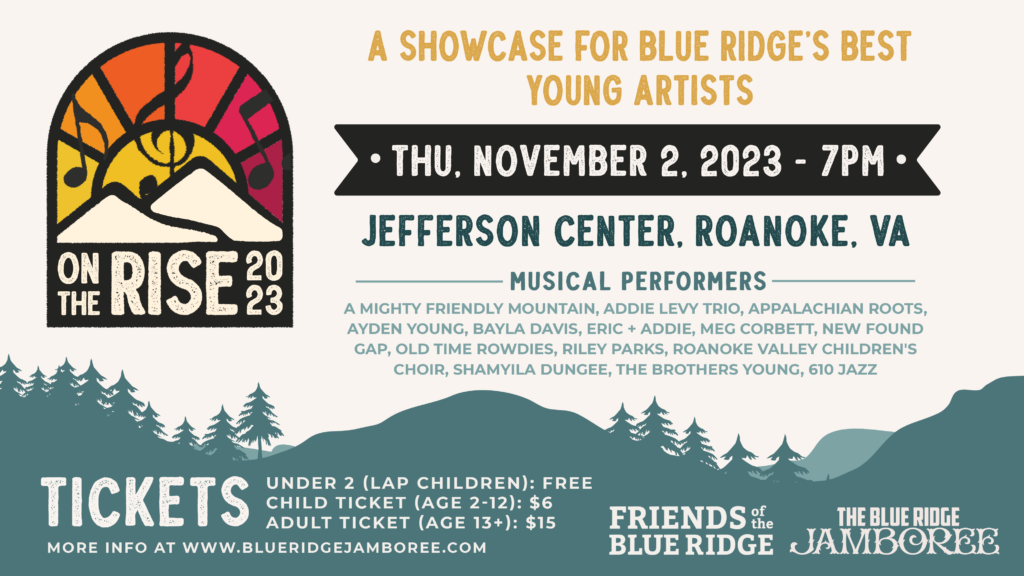 A Mighty Friendly Mountain
Addie Levy trio
Appalachian Roots
Bayla Davis
The Brothers Young
Meg Corbett
Shamyila Dungee
Eric + Addie
Newfound Gap
Old Time Rowdies
Riley Parks
Roanoke Valley Children's Choir
610 Jazz
All proceeds of The Blue Ridge Jamboree will support FRIENDS of the Blue Ridge's Lynn Davis Scholarship program, which funds students who are pursuing college degrees with a commitment to enhance the natural beauty, ecological vitality, and cultural distinctiveness of Virginia's and North Carolina's Blue Ridge region.